PDF Resizer - free online PDF toolkit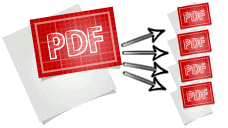 PDFResizer.com PDF editor allows you to instantly split and merge, optimize, crop, resize, and convert your documents online with just a couple of clicks.
Site news and updates:
Feb 12, 2019
New tool for converting colored PDF to grayscale.
June 4, 2018
Added one more tool - Reorder PDF. It lets you quickly change the order of pages in a PDF file using drag and drop.
November 17, 2017
Today we improved PDF splitter with a new feature - now you can manually enter a range of pages to extract from PDF.
November 2, 2017
A little update to PDFResizer - added SVG to PDF converter tool.
October 18, 2017
Published PDF repair tool for damaged or corrupt PDF document recovery, using Ghostscript, Pdftocairo or pdf-mutool programs.
October 12, 2017
Added a new tool which makes it easy to delete pages from PDF files.
October 10, 2017
PDF N-up tool for editing PDF document layout to print multiple pages per sheet - https://pdfresizer.com/multipage.
August 30, 2017
Now you can upload Microsoft Office doc, docx, ppt, pptx files and LibreOffice otd, odp files directly to our tools. They will be converted to PDF automatically.
Image to PDF converter now also supports BMP and TIFF formats.
July 24, 2017
Option to extend margins of a document (under PDF crop tool). For example, to add empty space for annotations.
March 23, 2017
Added a simple online PDF to ePub converter to the site.
January 3, 2017
New, simple tool for viewing named destinations in a PDF file. Thanks to Simon!
And improved usability on mobile devices.
July 19, 2016
Added support for password protected PDF files on all of our tools. Now when you upload encrypted PDF, you will be asked to enter password and it will be removed before continuing.
April 28, 2016
We recently published Web to PDF converter tool and enabled HTTP/2 protocol for faster website loading on modern browsers.
January 26, 2016
Added feature that lets you change paper size to the PDF resizer (of course, you still can change only the resolution same way as before). Additionally, we moved the app to significantly more powerful server. The tools should work a lot faster now.
November 23, 2015
Published one more useful addition - PDF crop tool. You can crop a selected area, or use the auto crop feature, to trim off empty white margins for the entire document.